Coursera partnered with Amazon Web Services to create this class straight from the source. AWS serverless architecture is booming. Who better to learn it from than the people at AWS? The course will introduce the serverless framework, teach students how to use essential tools and develop proficiency in creating serverless functions and solutions.
Created by: Rick Hurst
Produced in 2019

Instructor Details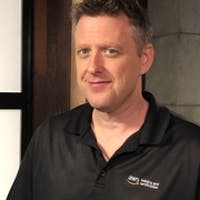 0.0 Rating
0 Reviews
AWS Technical Architect, based in Las Vegas, Nevada. Rick has been with AWS for almost 3 years, and is an Ex AWS Senior Technical Trainer. As Technical Architect he works broadly with various leaders in the curriculum teams to facilitate technical training material, such as labs, code exercises, and bootcamps, while ensuring our courses are scoped appropriately for the respective audiences. Prior to AWS Rick was a freelance technical trainer and FullStack software developer, where he created and produced videos and screencasts, created custom technical curriculum, developed software, and specialized in online live coaching along with in-person custom software training to the Enterprise. Outside of AWS, Rick spends the rest of this time developing software applications for fun, playing guitar, or immersed in his Oculus Rift.

Reviews
Write a Review