This course by Justin Guitar introduces newcomers to the fundamentals of playing the guitar. It covers basic playing techniques, chord progressions, reading music and guitar care.
Created by: Justin Sandercoe
Produced in 2019

Instructor Details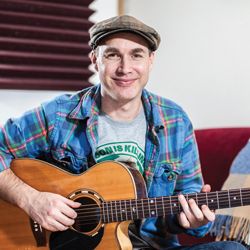 0.0 Rating
0 Reviews
Justin Sandercoe is a UK based guitarist who grew up in Tasmania (an island off the South East coast of Australia) but has been based in West London since 1996, though moved out to the countryside in 2017. He started playing the guitar before he can remember and started performing with rock and blues bands at age 12 and started teaching shortly after. By the time he began studying classical guitar at The Tasmanian Conservatorium of Music aged 18 he was already playing in funk and rock bands (often 5 gigs a week) and teaching over 30 private students every week. He moved to London in 1996 to study (on a scholarship grant from Arts Tasmania) at the esteemed Guitar Institute in London where he started teaching a year after graduating. He currently plays with the Trip-Hop band We Came As Strangers, who released their debut album Recipe For Adventure in early 2013 followed by Shattered Matter (2014) and then Eyedom (2015). His recording and filming studio "Broken Arrow #4" is located in Surrey (an hour south-west of London).

Reviews
Write a Review