The Introduction to Robotics Specialization introduces you to the concepts of robot flight and movement, how robots perceive their environment, and how they adjust their movements to avoid obstacles, navigate difficult terrains and accomplish complex tasks such as construction and disaster recovery. You will be exposed to real world examples of how robots have been applied in disaster situations, how they have made advances in human health care and what their future capabilities will be. The courses build towards a capstone in which you will learn how to program a robot to perform a variety of
Created by: Christopher Brooks

Quality Score

Live Chat with CourseDuck's Co-Founder for Help
Need help deciding on a invision course? Or looking for more detail on Christopher Brooks's Python Project: pillow, tesseract, and opencv? Feel free to chat below.

Course Description
This course will walk you through a hands-on project suitable for a portfolio. You will be introduced to third-party APIs and will be shown how to manipulate images using the Python imaging library (pillow), how to apply optical character recognition to images to recognize text (tesseract and py-tesseract), and how to identify faces in images using the popular opencv library. By the end of the course you will have worked with three different libraries available for Python 3 to create a real-world data-analysis project.The course is best-suited for learners who have taken the first four courses of the Python 3 Programming Specialization. Learners who already have Python programming skills but want to practice with a hands-on, real-world data-analysis project can also benefit from this course.This is the fifth and final course in the Python 3 Programming Specialization.

Instructor Details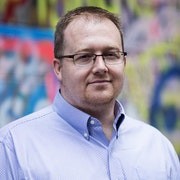 3.6 Rating
37 Reviews
Christopher Brooks is a Research Assistant Professor in the School of Information and Director of Learning Analytics and Research in the Office of Digital Education & Innovation at the University of Michigan. His research focus is on the design of tools to better the teaching and learning experience in higher education, with a particular interest in understanding how learning analytics can be applied to human computer interaction through educational data mining, machine learning, and information visualization.

Reviews
Write a Review