This course by Justin Guitar introduces newcomers to the fundamentals of playing the guitar. It covers basic playing techniques, chord progressions, reading music and guitar care.
Created by: Justin Sandercoe
Produced in 2019

Quality Score

Live Chat with CourseDuck's Co-Founder for Help
Need help deciding on a guitar course? Or looking for more detail on Justin Sandercoe's Beginner Guitar Course (Classic)? Feel free to chat below.

Course Description
guitar Awards

Best Practical Course
As promised, my new Beginner Grade 1 Guitar Lessons series was launched on December 21, 2019.But for sure that doesn't make this 'classic' course any less effective or useful, it's helped millions of people and it can help you too. But of course, having two courses is going to raise some questions...What is better about the new course?I spent over a year looking at comments on this course, in the forum and on my YouTube videos to see where I could make improvements to this course. I decided to break the delivery of new material into smaller chunks, so rather than having 'Stages', the new course has 'Lessons' which are basically more like what you would get in one private lesson than 'Stages' were. I changed the way I teach the G chord, improved the progression for strumming study and put a greater emphasis on songs. Go have a look - it's still free.If I started on the old course should I stay or swap over?At this stage I have only filmed Grade 1 of the new course which equates to Stages 1-3 in the classic course - so if you're any further along than that you'll use the classic course. I expect Grade 2 be released in around April 2021. Grade 3 around September - they are a load of work, and I'm currently learning Grade 2 left-handed myself to test it all, so I have some work to do ;) If you only just started, then I'd jump to the new one - if you're further along then use both!Can I still use my songbooks?Of course! All the songs are awesome for beginners, I'm essentially just changing the speed of delivery of the lessons - the order or info presented is almost exactly the same - and in the new course, I will specify where to find the appropriate songs for each lesson!Can I still use the Beginner Song Course AppMy Beginner Song Course App is separate to the website courses, but a perfect companion to both. At time of launch, the app has playlists for the old course but not the new one yet - but we're working on it :) Wishing you a lot of fun on your guitar journey, whichever path you choose! Good luck!

Pros

Cons
Course is designed to integrate any songbooks you might already have.
Comes with a Beginner Song Course App that adds dimensions to the learning process.
Course material is arranged by grades that make it easy to see when the difficulty is rising.

Courses have transitioned from an older template, and there are rough edges because of it.
Course does not offer much advice on where to go when the basics are covered.
Course claims to cover improvisation, but it leaves much to be desired on this front.

Instructor Details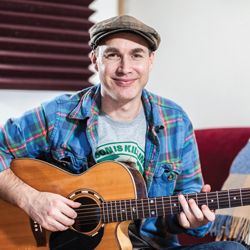 0.0 Rating
0 Reviews
Justin Sandercoe is a UK based guitarist who grew up in Tasmania (an island off the South East coast of Australia) but has been based in West London since 1996, though moved out to the countryside in 2017. He started playing the guitar before he can remember and started performing with rock and blues bands at age 12 and started teaching shortly after. By the time he began studying classical guitar at The Tasmanian Conservatorium of Music aged 18 he was already playing in funk and rock bands (often 5 gigs a week) and teaching over 30 private students every week. He moved to London in 1996 to study (on a scholarship grant from Arts Tasmania) at the esteemed Guitar Institute in London where he started teaching a year after graduating. He currently plays with the Trip-Hop band We Came As Strangers, who released their debut album Recipe For Adventure in early 2013 followed by Shattered Matter (2014) and then Eyedom (2015). His recording and filming studio "Broken Arrow #4" is located in Surrey (an hour south-west of London).

Reviews
Write a Review