Quality Score

Live Chat with CourseDuck's Co-Founder for Help
Need help deciding on a c course? Or looking for more detail on Professor Peter Komisarczuk's Information Security: Context and Introduction? Feel free to chat below.

Course Description
In this course you will explore information security through some introductory material and gain an appreciation of the scope and context around the subject. This includes a brief introduction to cryptography, security management and network and computer security that allows you to begin the journey into the study of information security and develop your appreciation of some key information security concepts.The course concludes with a discussion around a simple model of the information security industry and explores skills, knowledge and roles so that you can determine and analyse potential career opportunities in this developing profession and consider how you may need to develop personally to attain your career goals. After completing the course you will have gained an awareness of key information security principles regarding information, confidentiality, integrity and availability. You will be able to explain some of the key aspects of information risk and security management, in addition, summarise some of the key aspects in computer and network security, including some appreciation of threats, attacks, exploits and vulnerabilities. You will also gain an awareness of some of the skills, knowledge and roles/careers opportunities within the information security industry.

Instructor Details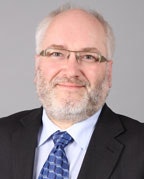 4.5 Rating
134 Reviews
Prof. Peter Komisarczuk B.Sc. M.Sc. Ph.D. CEng is Programme Director of Distance Learning in the Information Security Group at Royal Holloway, University of London. He received his B.Sc. and M.Sc. from the University of Nottingham and his Ph.D. from the University of Surrey (1998). Peter researches and publishes in the areas of internet security, networks and protocols, next generation networks, cognitive radio, distributed systems and computer science. Peter has worked in industry in various R&D roles at Ericsson, Fujitsu and Nortel Networks in the areas of next generation 'intelligent networks', access and optical networks and Internet network technology. Peter teaches in the area of networks, network security, cyber security, employability and research methods. In an academic context Peter has worked at Victoria University of Wellington (VUW) 2003-2010 and the University of West London (UWL) 2010-2014. He is a chartered engineer (CEng), a member of the British Computer Society (BCS) and the Association for Computing Machinery (ACM).

Reviews
Write a Review