From BornCG, this YouTube tutorial takes only 46 minutes to complete. It bangs out the bare necessities of Blender, enabling students to get past the absolute basics and primed for more advanced forays into Blender applications.
Created by: BornCG
Produced in 2019

Quality Score

Live Chat with CourseDuck's Co-Founder for Help
Need help deciding on a blender course? Or looking for more detail on BornCG's Blender 2.8 Tutorial #1: Intro for Beginners #b3d? Feel free to chat below.

Course Description
blender Awards

Best Crash Course
In this Blender 2.8 Tutorial #1 I cover:- How to get Blender & System Requirements (1:23)- Blender 2.80's new splash screen and 'Quick Setup' settings (2:12)- Blender's user interface (layout and editors) (3:47)- Workspace (UI layouts: Top Tabs) (6:52)- Splitting & Joining Editor Windows & changing Editor Types (8:18)- Navigating the 3D View Editor (Gizmos & Mouse controls) (9:42)- Views (Front, Sides, Top, etc) using Gizmos and Shortcuts (11:14)- Viewport Shading Modes (Solid/Wireframe/LookDev/Rendered) (14:20)- Toolbar Tools: Select, Transformation (Move/Rotate/Scale) using Transform Gizmos (16:27)- Adding Objects, Primitive Object Settings, & the 3D Cursor (19:16)- Grab/Rotate/Scale with Keyboard shortcuts + Modifier keys (23:09)- Make a snowman! + Duplicating Objects + Right-Click Context menu (28:52)- Adding simple Materials (colors) to Mesh Objects (34:46)- Positioning the Camera and Rendering a still image (37:41)- Saving a Rendered Image (41:31)- Saving your .Blend file (42:55)- More Blender 2.8 Tutorials to come! + Tutorial numbers, thumbnails & topics (44:10)

Pros

Cons
At 46 minutes, virtually anyone can complete this course. It is the height of accessibility.
Efficiently arranged information makes this tutorial more useful than many of its longer counterparts.
BornCG offers a host of additional tutorials that can supplement and build on what is learned in the intro.

This tutorial is really designed for an absolute first look at Blender. Some students will be underwhelmed.
At 46 minutes, you will be left with more questions than answers.
Course might not be deep enough to help students discern how deeply they want to explore Blender.

Instructor Details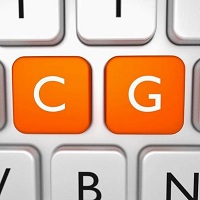 0.0 Rating
0 Reviews
Educator, YouTuber, Life-Liver. Blender, Godot and Creative Technology Teacher.

Reviews
Write a Review