Quality Score

Live Chat with CourseDuck's Co-Founder for Help
Need help deciding on a artificial intelligence course? Or looking for more detail on Dan Zhang's Predictive Modeling and Analytics? Feel free to chat below.

Course Description
Welcome to the second course in the Data Analytics for Business specialization! This course will introduce you to some of the most widely used predictive modeling techniques and their core principles. By taking this course, you will form a solid foundation of predictive analytics, which refers to tools and techniques for building statistical or machine learning models to make predictions based on data. You will learn how to carry out exploratory data analysis to gain insights and prepare data for predictive modeling, an essential skill valued in the business. You'll also learn how to summarize and visualize datasets using plots so that you can present your results in a compelling and meaningful way. We will use a practical predictive modeling software, XLMiner, which is a popular Excel plug-in. This course is designed for anyone who is interested in using data to gain insights and make better business decisions. The techniques discussed are applied in all functional areas within business organizations including accounting, finance, human resource management, marketing, operations, and strategic planning. The expected prerequisites for this course include a prior working knowledge of Excel, introductory level algebra, and basic statistics.

Instructor Details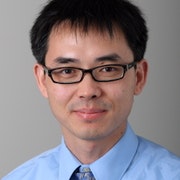 3.0 Rating
198 Reviews
Dan Zhang is Associate Professor of Operations Management at Leeds School of Business, University of Colorado Boulder. Dr. Zhang teaches in the area of operations management and data analytics in undergraduate, MBA, and PhD programs. Courses he taught include Business Statistics, Operations Management, Advanced Data Analytics, Spreadsheet Modeling, Stochastic Dynamic Programming, and Pricing and Revenue Management. Dr. Zhang's primary research interest is data-driven decision making with applications to pricing and revenue management, supply chain management, and healthcare operations. He published 20 research articles on these topics and frequently speak at conferences, companies, and academic institutions. He consulted in his area of expertise for companies in Canada, China, Europe, and United States. He is the current president of the INFORMS Rocky Mountain Chapter, a society of analytics professionals in the rocky mountain region, and serves on the advisor board of Tech Valley Inc., a big data startup supported by Microsoft Accelerator. More recently, he was elected chair of INFORMS Pricing and Revenue Management Section, an international society of pricing and revenue management researchers and professionals.

Reviews
Write a Review