The Introduction to Robotics Specialization introduces you to the concepts of robot flight and movement, how robots perceive their environment, and how they adjust their movements to avoid obstacles, navigate difficult terrains and accomplish complex tasks such as construction and disaster recovery. You will be exposed to real world examples of how robots have been applied in disaster situations, how they have made advances in human health care and what their future capabilities will be. The courses build towards a capstone in which you will learn how to program a robot to perform a variety of
Created by: Vijay Kumar

Quality Score

Live Chat with CourseDuck's Co-Founder for Help
Need help deciding on a flutter course? Or looking for more detail on Vijay Kumar's Robotics: Aerial Robotics? Feel free to chat below.

Course Description
How can we create agile micro aerial vehicles that are able to operate autonomously in cluttered indoor and outdoor environments? You will gain an introduction to the mechanics of flight and the design of quadrotor flying robots and will be able to develop dynamic models, derive controllers, and synthesize planners for operating in three dimensional environments. You will be exposed to the challenges of using noisy sensors for localization and maneuvering in complex, three-dimensional environments. Finally, you will gain insights through seeing real world examples of the possible applications and challenges for the rapidly-growing drone industry.Mathematical prerequisites: Students taking this course are expected to have some familiarity with linear algebra, single variable calculus, and differential equations.Programming prerequisites: Some experience programming with MATLAB or Octave is recommended (we will use MATLAB in this course.) MATLAB will require the use of a 64-bit computer.

Instructor Details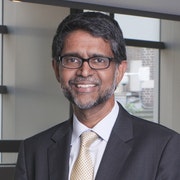 4.4 Rating
138 Reviews
Vijay studies collective behaviors in biological and robotic systems. He and his group design novel architectures, create abstractions for systems of interacting individuals, and develop new algorithms for cooperating robots. The overarching themes in his research include modeling nature and developing bio-inspired architectures and algorithms, understanding group/individual dynamics, and the design and composition of controllers for robust, scalable autonomous systems. Vijay's key challenges include operation in unstructured, dynamic environments, integration of control, communication and perception, and scaling down to smaller sizes with limited actuation, sensing, and computational resources.

Reviews
Write a Review