Calarts created this 14-hour course that is run by Coursera. This course is all about the fundamentals of graphic design. It focuses on typography, composition, image making and color and shape. It teaches the base skillset necessary to make full use of graphic design tools like Photoshop.
Created by: Michael Worthington
Produced in 2015

What you will learn
Fundamentals of image making.
Fundamentals of typography.
Fundamentals of shape and color.
Fundamentals of composition.

Quality Score
Overall Score : 100 / 100

Live Chat with CourseDuck's Co-Founder for Help
Need help deciding on a photoshop course? Or looking for more detail on Michael Worthington's Fundamentals of Graphic Design? Feel free to chat below.

Course Description
photoshop Awards

Best Free Course
Graphic Design is all around us! Words and pictures-the building blocks of graphic design-are the elements that carry the majority of the content in both the digital world and the printed world. As graphic design becomes more visible and prevalent in our lives, graphic design as a practice becomes more important in our culture.Through visual examples, this course will teach you the fundamental principles of graphic design: imagemaking, typography, composition, working with color and shape... foundational skills that are common in all areas of graphic design practice. I don't just want you to watch a video of someone talking about design, I want you to MAKE design! If you want to be a designer you have to be a maker and a communicator, so this course will offer you lots of opportunities to get your hands dirty with exercises and with more practical projects.At the end of this course you will have learned how to explore and investigate visual representation through a range of image-making techniques; understand basic principles of working with shape, color and pattern; been exposed to the language and skills of typography; and understand and have applied the principles of composition and visual contrast. If you complete the course, along with its optional (but highly recommended) briefs, you will have a core set of graphic design skills that you can apply to your own projects, or to more deeply investigate a specialized area of graphic design.To succeed in this course you will need access to a computer. You can complete this course without one but it will be tougher. Access to, and a beginner's level knowledge of Adobe Creative Suite programs, such as Illustrator, Photoshop and InDesign will help you, especially if you want to complete the optional briefs.

Pros

Cons
Course is great as a first-time introduction to the core concepts of graphic design.
No prerequisites are necessary. This is a good course for exploring whether or not a cursory interest in graphic design could bloom into something more.
Amazing opportunity for professionals peripherally attached to graphic design to learn more about the field of study.

This course does not teach intricate software skills. You will not master Photoshop and similar software here.
Not a practical skills course at all. Focus is almost entirely on design concepts rather than applications of those concepts.
Course if for people interested in graphic design rather than invested in it.

Instructor Details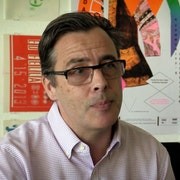 5.0 Rating
118 Reviews
Michael Worthington is the founding partner of Counterspace (Los Angeles), a graphic design studio specializing in editorial and identity work for cultural clients. His recent book designs include A New Sculpturalism, Made in L.A. 2012, and More Real, as well as catalogues for Mark Bradford, William Leavitt, Amanda Ross-Ho, Meleko Mokgosi, Alice Konitz and Samara Golden. His work has been published widely and exhibited in Belgium, Italy, England, the Czech Republic, El Salvador, Japan, France, China and the US, and he has lectured in Korea, Belgium, Holland, Australia, England, France, Mexico and across America. He has been a judge for the California Design Biennial, Output, the AIGA and the ADC and curated the design show "Two Lines Align" at REDCAT. His writing has been published in Eye, Print, Slanted, and Threaded magazines, and various design books, most recently Earthquakes, Mudslides, Fires and Riots: California and Graphic Design 1936-86. He has taught at the California Institute of the Arts since 1995.

Reviews
Write a Review