Excel with the A-Z Microsoft Excel Pivot Tables & Excel Data Analysis [Excel 2010, Excel 2013, Excel 2016, Excel 2019]
Created by: MyExcelOnline John Michaloudis
Produced in 2022

What you will learn
ADDED BONUS: This entire courses can be DOWNLOADED for offline viewing on the Udemy mobile app (Android & iOS)!
Become an Excel & Pivot Table ADVANCED user within HOURS which will get noticed by top management & prospective employers!
Learn to use Excel Pivot Tables PROFESSIONALLY & CONFIDENTLY, with the most IN-DEPTH Pivot Table course on Udemy with 250+ video tutorials!
Knowing Pivot Tables & Data Analysis will increase your PROFESSIONAL DEVELOPMENT and lead to greater opportunities like a HIGHER Salary and PROMOTIONS!
Learn ALL the Pivot Table features: Slicers, PivotCharts, Filtering, Grouping, Sorting, Conditional Formatting, Macros, Dashboards, Data Analysis, GETPIVOTDATA, Calculated Fields, Formatting plus MORE!
DOWNLOADABLE Excel workbooks so you can keep on your desktop & practice!
Access 16 Finance & Accounting Real World Case Studies PLUS learn the NEW Excel 2013, 2019 & 2019 Pivot Table

Quality Score

Live Chat with CourseDuck's Co-Founder for Help
Need help deciding on a excel course? Or looking for more detail on MyExcelOnline John Michaloudis's Microsoft Excel - Excel with Excel Pivot Tables Bootcamp!? Feel free to chat below.

Course Description
***** ADDED BONUS: This entire courses can be DOWNLOADED for offline viewing on the Udemy mobile app (Android & iOS)! *****
***** THE MOST VIDEO TUTORIALS (250+ VIDEOS & 11 HOURS) IN ANY OF THE UDEMY EXCEL PIVOT TABLE & DATA ANALYSIS COURSES *****
>> UPDATED NOVEMBER 2019 with the New Excel Pivot Tables Features For Excel 2019 & Office 365!
>> 7 COURSE BONUSES: Excel PDF Cheat Sheets, 101 Ready Made Excel Templates, plus MORE!!!
----------
Listen to a few of our satisfied students who have taken this TOP-RATED Excel Pivot Table & Data Analysis course and advanced their Excel skills in days:
"This course is tremendously comprehensive. The best part is that the course is served in small bite-sized pieces that are easily digested. A teaching course that doubles as a reference guide. Definitely worth your time and money" - James
"I thought I was good in Excel before starting this course, but this course showed me how much more I can do in Excel. I used most of the techniques taught in the course to create a Dashboard at work. John's teaching style is perfect. Unlike other courses, he used real examples to explain the concepts. I highly recommend this course" - Sumit
"I would highly recommend this course for anyone who is keen to learn all features of Pivot Tables. The practical examples i.e. Interactive Balance Sheet Pivot table, Top 10 macro are just a few of the great examples. Tutor also helped by promptly answering questions when I stuck. All in all, a highly recommended course!" - A.R.
----------
If you want to get better at Excel and stand out from the crowd to get the promotions or pay-rises that you deserve, then you are in the right place!
This is the most comprehensive Excel Pivot Table online course ever made which has over 250 short and precise tutorials.
No matter if you are a Beginner or an Advanced user of Excel, you are sure to benefit from this course which goes through every single tool that is available in an Excel Pivot Table. The course is designed for Excel 2007, 2010, 2013, 2016, 2019 and Office 365.
In no time you will be able to analyze lots of data and tell a story in a quick and interactive way, learn how to build stunning Dashboards and get noticed by top management & prospective employers. The course is just over 10 hours long so you can become an awesome analyst and advanced Excel user within 1 week!
There are 17 different chapters so you can work on your weaknesses and enhance your strengths. Each chapter was designed to improve your Excel skills with extra time saving Tips and real life business Case Studies. Here are the main topics that we will cover in this course:
CUSTOMIZE YOUR PIVOT TABLE
VALUE FIELD SETTINGS > SUMMARIZE VALUES BY
VALUE FIELD SETTINGS > SHOW VALUES AS
GROUPING
SORTING
FILTERING
SLICERS
CALCULATED FIELDS & ITEMS
PIVOT CHARTS
CONDITIONAL FORMATTING
GETPIVOTDATA Formula
MACROS
DATA MANAGEMENT
BONUS VIDEOS
NEW EXCEL 2013 PIVOT TABLE FEATURES
NEW EXCEL 2016 PIVOT TABLE FEATURES
NEW EXCEL 2019 & OFFICE 365 PIVOT TABLE FEATURES
----------
Look, if you are really serious about GETTING BETTER at excel and ADVANCING your Microsoft Excel level & skills...
saving HOURS each day, DAYS each week and WEEKS each year
...If you want to improve your PROFESSIONAL DEVELOPMENT to achieve greater opportunities like PROMOTIONS, a HIGHER salary and KNOWLEDGE that you can take to another job
...All whilst impressing your boss and STANDING OUT from your colleagues and peers...
...THEN THIS COURSE IS FOR YOU!
Now you have the opportunity to join your fellow professionals who are taking this course and enhancing their Microsoft Excel skills!
To enroll, click the ENROLL NOW button (risk-free for 30 days or your money back), because every hour you delay only delays your personal and professional progress...
----------
>> Get LIFETIME Course access including over 250 downloadable Excel workbooks, Quizzes, 1-on-1 instructor SUPPORT and a 100% money-back guarantee! ***
>> Watch our PROMO VIDEO above and a few of our FREE VIDEO TUTORIALS to see for yourself just how beneficial this course is and how you too can become better at Excel ***Who this course is for:
New users, beginners, intermediates and advanced Excel users
Excel users who want to learn Excel quickly, increase their Excel level and get noticed by their boss!

Instructor Details

4.6 Rating
98 Reviews
Hello fellow Excel lovers/beginners/experts/users! My name is John and I am the Chief Inspirational Officer at MyExcelOnline.
I hold a bachelors degree in Commerce (Major in Accounting) from La Trobe University in Melbourne, Australia and speak English, Greek and Spanish (and Excel)
My journey in to Excel began after I graduated and have since helped many of my colleagues around the world understand this underutilized but powerful tool. Now its my turn to teach YOU the power of Excel with these high quality and easy to understand tutorials.
My aim is to get you to become comfortable & confident in Excel and use its power to make your job a lot easier & save you time, create interactive reports that will reach top management and ultimately make you stand out from your colleagues and get that promotion or pay rise that you deserve.
I have taught over 50,000 students on Udemy alone plus over 100,000 people on my website - MyExcelOnline. I have an active Excel blog where I post free Excel tutorials as well as an Excel podcast where I interview fellow Excel experts & share their insights.
I am currently living in the North of Spain (Basque Country) and I'm married and have one cheeky boy & a newly born baby girl! You could describe me as a football lover, wine & beer drinker, food indulger and occasional gym goer

Students also recommend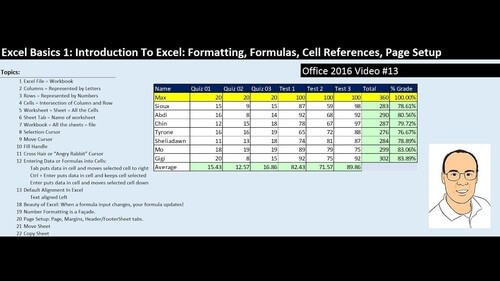 4.9 (15 Reviews)




Provider: YouTube
Time: 12h

0.0 (0 Reviews)

Provider: Chandoo.org
Time: 1h 30m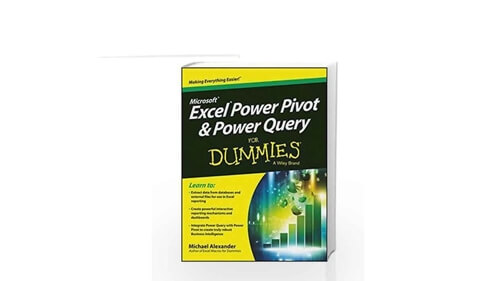 0.0 (0 Reviews)

Provider: Amazon

Reviews
Write a Review