Excel: The WHOLE Excel Mastery Series In One! From Excel Novice To VBA Programmer - Excel 2013, Excel 2016, Excel 2019
Created by: Alan Jarvis
Produced in 2022

What you will learn
By the end of Level 1:
Master all the basics of Excel, even if you've never seen a spreadsheet before!
Build your own spreadsheets from scratch, and actually understand how they work!
You will be able to build your own simple, AND complex formulas (and know what the difference is!), and use some of Excels built in functions.
Do in seconds, what a lot of seasoned users take minutes to do!
Increase your chances of promotion, or a better paying job by understanding the most widely used business software in the world
By the end of Level 2:
Learn To Use Excel Like The Professionals
Get Streets Ahead Of Your Competition
Build Powerful Advanced Excel Projects From Scratch
Create a fully functioning relational database using Excel
Create a simple data entry screen to auto-populate complex templates
Build Gantt charts in Excel for project planing
Expoit Excels built in advanced functi

Quality Score

Live Chat with CourseDuck's Co-Founder for Help
Need help deciding on a excel course? Or looking for more detail on Alan Jarvis's Excel Essentials: The Complete Excel Series - Level 1, 2 & 3? Feel free to chat below.

Course Description
Beginners rated this course HIGHEST!

Why buy 5 individual Excel courses, when this one complete course will give you everything you'll ever need?
Over 54,000 students in 194 countries are becoming Excel masters with THIS series! Check out the FREE PREVIEW LECTURES and SEE WHY!

Excel is the most in commonly used and in demand tool for making sense of data.
When you can harness that power, you will be a sought after employee and YOU CAN EARN MORE MONEY!.
If you run a business, being proficient in Excel can help you see your business in a completely different light.
_____________________________________________________________________________

What other students are saying:

"I'm coming close to finishing this course...This course has given me the knowledge and confidence to succeed, get promoted and think seriously about building a career based on what I can learn from great teachers like Alan." - Thomas Heaton
"This is the most comprehensive course I've seen on Udemy..." - Renato Ferreira
_____________________________________________________________________________
Congratulations!

If you are reading this, you have already taken your first important step. You want to learn Excel from the ground up, and go from a complete beginner, to super user, to being part of the few Excel Elite, and being able to program your very own full blown applications using VBA (including automating not only Excel, but Outlook, Word, Powerpoint and even Windows itself!).
This complete course contains all the lectures, quizzes, projects, and downloadable resources contained in Levels 1, 2 and 3. In fact, everything you will need to go from novice to coder! There's no need to buy one course after another to become an Excel master...it's all here!

Yes, but 26 hours, Alan?
Don't worry! We have a very (very) active student forum, so new lectures are regularly added in the SQA Sections (Student Questions Answered). If I can't explain something in a post, or I get a particularly interesting question, I'll make a video for you to walk you through your own specific sticking point!
You can find the detail of each section below, but here's a summary of how it breaks down:
Level 1 Beginners: Base course - 3 hours, SQA - 30 minutes
Level 2 Advanced: Base course - 6.5 hours, SQA - 1 hour
Level 3 VBA Programming: Base course - 11.5 hours, SQA - 3.5 hours
The course is structured so you can dip in and out whenever you want...you don't have to do it all at once :)

Here's what you get inside...
In Excel Essentials: Level 1 Basics - Master Excel Step-By-Step
Average review HIGHER than the other Microsoft courses on Udemy!
Average minutes viewed 27% HIGHER than other Microsoft course!
New students join THIS Excel course EVERY DAY!
Great news! I have added a new bonus section to this course "Student Questions Answered"!
In this section you will find custom made tutorials to answer YOUR specific questions! Just drop a message in the discussion board, and if I can't answer it in a simple message, I'll make a video just for you!
_____________________________________________________________________________
What other students are saying:
"This course is exactly what I was looking for. Simply explained, and in a level of detail I could follow. I really enjoyed it, and will recommend it to all my friend"s Beatrice
"Learned about stuff I never knew" Sarah Jones
"This course gives a solid foundation for a beginner who wants to develop their skills...To sum up Folks, this is a HIGHLY RECOMMENDED course. I will be shortly enrolling myself in the next course with Alan of course" Alex
_____________________________________________________________________________

Next to soft skills, being able to use Microsoft Excel well is probably one of the most sought after skills employers are looking for in today's competitive market. Make sure you can compete
Do you want to master one of the must have skills for any work place?
Are you willing to invest a little time now for your own future?
Want to learn powerful, little known tools most users don't know about?
Do you want to get ahead of your competition?
If you are a complete beginner looking to master Excel, or you just want to brush up on the basics, you've come to the right place. If you want to earn more money by developing a skill set that today's employers demand, this is the course is for you!
_____________________________________________________________________________
"This is a great course for anyone wishing to learn or brush up on the basics. The presentations are easy to follow!" Pamela Reyna
"This is a very simple, clear and concise and easy to follow course that is perfect for beginners" Sean Loftus
"I loved this course...he made a 20+ minute video tutorial and reverse engineered a sample form I provided him. This unlocked a huge amount of functionality for me. Excellent teacher! David Keegan
_____________________________________________________________________________
Getting to grips with Excel will give you a distinct advantage in whatever work you currently do, and can open the door to new opportunities.
Many of my students have gone on to get better paying jobs, or even start their own businesses, using the very skills you will soon master.
"I spent over 30 years mastering Excel, so you don't have to!"
In this course we cover in detail all of the basic functions of Excel, and you will learn not only how to use it, but some powerful tools to allow you understand how it works. There is a difference between repeating something and understanding it.
Who is this course aimed at?
Complete beginners, and those who want to build a solid foundation upon which to build their skills.
_____________________________________________________________________________
"The author of this course takes you through it one simple step at a time, and it is really easy to follow. I like that the lectures

Instructor Details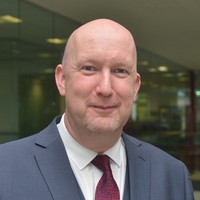 4.8 Rating
100 Reviews
Over 73,500 Happy Students, in 194 Countries Are Enrolled In My Courses...
Hi, my name is Alan, and I have almost thirty years of experience in teaching various subjects and have held senior management positions at several blue chip and Times Top 100 companies. I now specialise in consultancy, interim work and teaching here on Udemy.
My love for Excel began soon after the program was released. Back then, we really only used it for typing tables in our production planning department. If you can believe it, I was taught to then calculate with a calculator and TYPE the answers into Excel...you'd be surprised how many people I meet who still do this.
There were two turning points for me in my journey. The first was a chance conversation with one of our accountants when I was complaining how slow it was to keep having to flip between worksheets to see different bits of data. He introduced me to VLookups and a new world of possibilities opened up for me...
...I found that I need never have huge paper accountancy pads (remember those?) and a calculator to produce a production plan again! Suddenly, I could produce my plan in 15 minutes, rather than the day and a half it used to take. I began delving into other features of Excel, and finding ways to incorporate them into the planning "system" I had created, and remember this was back in the day when the internet hadn't been invented :)
Through trial and error, I refined my Workbook until I coul

Students also recommend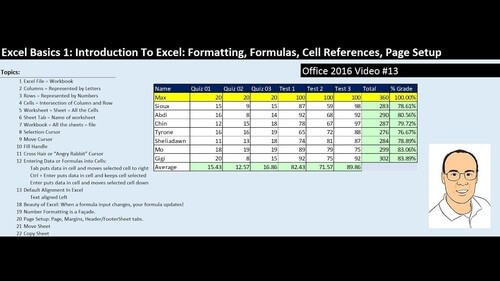 4.9 (15 Reviews)




Provider: YouTube
Time: 12h

0.0 (0 Reviews)

Provider: Chandoo.org
Time: 1h 30m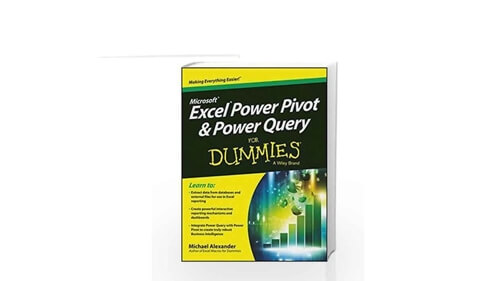 0.0 (0 Reviews)

Provider: Amazon

Reviews
Write a Review