Master the Affinity Suite & Create: Logos, Books, Brochures, Posters, Brushes, Thumbnails, Learn Photo Editing and More!
Created by: Jeremy Hazel
Produced in 2022

What you will learn
You will master the Affinity Designer, Photo, Publisher and Mobile Apps - The Full Suite of Affinity Software
Master Photo Editing Techniques - Layers, masking, lighting, blending modes, effects and more
Get comfortable using the Pen tool and other vector tools to create logos, icons and graphics of all kinds
Create multiple page books and layouts
Know how to export and work with digital and print files
Create a wide variety of projects including logo designs, brochures, books, Instagram posts, posters, business cards, create brushes, digital graphics, advertisements and more!
Learn design basics like layout, color and working with fonts and type, and mastering Grids
You will be able to create your own custom brushes in multiple programs
Learn how to work with your own photos to create awesome compositions

Quality Score

Live Chat with CourseDuck's Co-Founder for Help
Need help deciding on a affinity photo course? Or looking for more detail on Jeremy Hazel's Learn the Entire Affinity Suite: Photo, Designer & Publisher? Feel free to chat below.

Course Description
Are you ready to learn the entire suite of Affinity products and up your design game? This course guides through learning the many tools in Affinity Photo, Affinity Designer, Affinity Publisher and the Affinity mobile apps.
In Affinity photo, Jermey Hazel will build 3 popular advertisements using the Affinity Photo program, as well as 3 separate Youtube thumbnails.an essential skill for any creator using the software. Lastly we will be building a complete movie poster using custom made brushes ...so you learn everything you need to build the poster.
In Affinity Designer Lindsay Marsh will work through all of the major tools and work on an engaging downloadable tracing worksheet, so you can master that pen tool, shapes tool and create a series of icons in your very first hour! We then conquer a bright and colorful logo design as we work with typography and learn how gradients work. Next, we will focus on layout design as we create a front and back of a business card. Want to create a cool type only poster? We will do this and learn how to work with layers and textures. Lastly, we will create a practical tri-fold brochure and learn how to prepare and export files for print.
There is even a section where you learn the Pixel persona option in Affinity designer and create brushes that help you build a complete Sci-fi space scene like you would find in a professionally illustrated children's book.
In Affinity Publisher, Lindsay Marsh will teach you a wide variety of tools like master pages, character styles, photo frames and how to work with large blocks of copy and content to create a beautifully styled front cover of a cookbook and several inside spreads. We will talk about exporting both digital and print files.
Lastly, Jeremey Hazel will cover the mobile Affinity apps - Both Designer and Photo where you will build out a complete Tshirt mock-up for use in multiple projects. We will show you how to do a digital illustration in both vector and pixel personas. In photo we will take 6 photos and create a cohesive themed portfolio for placement and display on instagram from a trip he recently took to Chicago and Milwaukee.
This class is HUGE! With well over 10+ hours of video content, downloadable project files, software instruction and practical fun projects, Jeremey and I are both proud to present this course to you today. Not only will you learn and feel comfortable with all of the software taught in this course you will also be able to create a wide variety of awesome practical projects. I will see you in the first lesson of the course!Who this course is for:
Anyone interested in learning the Affinity Suite of Products (Affinity Photo, Affinity Publisher, Affinity Designer and Mobile apps too!))
Those wanting to learn software but create stunning looking projects like logos, brochures, posters, ads, business cards and more!
Those wanting to know about basic design principles while learning the software doing creating practical projects
Those intersted in Graphic Design, Illustration and most creative fields and are wanting to add the Affinity suite to your software tool belt

Instructor Details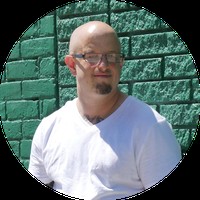 4.7 Rating
39 Reviews
With over 20 years tattooing , and almost 40 of being a creative I have been into art since I got something I can draw with in my hand. Starting out in more traditional mediums I cut my teeth in pencil, charcoal, and acrylic painting until discovering tattooing. This began a love affair with art and lead me to open 7th seasons studios. Nothing inspires a higher level of perfection than knowing the client will walk around with my art for the rest of their lives.
After completing a masters in business and having to manage the marketing of a successful shop I quickly realized that the future of art is digital and I began making my own show banners and managing my own website. This sealed the deal and digital art has replaced the traditional pen an ink for me.
Furthermore the industry has changed to such a degree that more and more clients and artists are demanding digital skills i the design and application of art, and so I saw a significantly under served market in people with existing talent, but lacking digital
As a career teacher the most rewarding portion of what i do is seeing someone learn what they previously thought what out of reach and gain a confidence through the learning process....I identify with that because i m a firm believer in the beginner mindset and the idea of a life long learner. To me, art is as essential as breathing and I cannot even narrow down all the ways I express myself through various mediums, that is one of the best competitive advan

Reviews
Write a Review