This FreeCodeCamp.org tutorial is a single video designed to take students from an introduction of Node.js all the way through application development and debugging. It takes right at 2 hours and 30 minutes, and it covers all of the basics of the Node.js environment. It is supplemented with hundreds of professional programming articles and a number of additional external resources, making for a robust learning experience.
Created by: Samer Buna
Produced in 2019

What you will learn
Executing files
Modules
Publishing
Creating a web server
Events and Streams
Debugging

Quality Score

Live Chat with CourseDuck's Co-Founder for Help
Need help deciding on a node js course? Or looking for more detail on Samer Buna's Getting Started with Node.js - Full Tutorial? Feel free to chat below

Course Description
node js Awards

Best NEW Course
Learn the fundamentals of the very popular Node.js runtime and get comfortable writing JavaScirpt code for Node.js.

Pros

Cons
Content is extremely focused, enabling for greater clarity than peer instructional resources.
Samer Buna is a renowned educator and mentor. His presentation is among the best.
Course is ultimately a great resource to prime users for the vast supplemental information, making it an invaluable resource for beginners to move towards mastery of Node.js.

Though it claims to be a full tutorial, it is really just an introduction. Mastery of Node.js is too complicated to be conveyed in a single video.
Supplemental information is substantially more advanced than the presentation in the video.
Works best when taken alongside additional Node.js introductions.

Instructor Details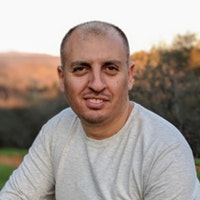 4.3 Rating
3 Reviews
Samer Buna is a polyglot coder with years of practical experience in designing, implementing, and testing software, including web and mobile applications development, API design, functional programming, optimization, system administration, databases, and scalability. Samer worked in several industries including real estate, government, education, and publications. Samer has also authored several technical books and online courses about Node.js, React.js, GraphQL, and Ruby on Rails. He is passionate about everything JavaScript, and he loves exploring new libraries.

Reviews
Write a Review