Learn the techniques to start your career as a Motion Graphic artist.
Created by: Daniel Walter Scott
Produced in 2022

What you will learn
Create beautiful motion graphics
Animate compelling infographics
Choose the correct video settings.
You'll learn how to exporting your video easily.
You'll be able to create slick type animations.
Rendering your video for Youtube & Vimeo.
Create titles for interviews.
Add music to your motion graphics.
Trim & editing video.
Add watermarking your video.
Fixing shaky footage.
Color correct & fix any bad footage.
Add a vignette to your video.
Learn how to use your skills from Illustrator & Photoshop
How to use green screen footage
How to mask like a pro.
How to animate infographics like bar graphs, line graphs & pie charts.
How to use camera to make 3D type.
Animating static images using parallax
Plus basic character animation.
+ More

Quality Score

Live Chat with CourseDuck's Co-Founder for Help
Need help deciding on a adobe after effects course? Or looking for more detail on Daniel Walter Scott's Adobe After Effects CC - Motion Graphics Design & VFX? Feel free to chat below.

Course Description
In this course you'll learn how to create motion graphics in Adobe After Effects. This motion graphics course is everything you need to start creating beautiful animation & infographics.
As part of this course you'll get downloadable exercise files so you can work along exactly with the trainer. You'll also get completed files with every video so you can download and check your files against the trainers.
Your trainer is an Adobe After Effects Certified Expert and Certified Instructor. Daniel has been creating immersive infographics and motion graphics for more than 12 years.
The course is approximately 3 hours long. Each step broken into individual videos to make it easily digestible.
In this course we'll cover:

Motion Graphics
Infographics
Correct video settings.
Exporting your video easily.
Type animation.
Easing and motion blur.
Rendering your video for Youtube & Vimeo.
Titles for interviews.
Adding music.
Trimming & editing video.
Watermarking your video.
Fixing shaky footage.
Color correcting footage.
Add a vignette to your video.
Matrix effect.
Working with Illustrator
Working with Photoshop
Green Screen
Masking.
Animating bar, line & pie charts.
3D type.
Animating static images using parallax
Character animation


In this course you'll create over 15 smaller projects so you can gain experience with the software. You can also use the exercises we create in your own portfolio.

You'll need Adobe After Effects installed on your computer. A 30 day free trial can be downloaded directly from Adobe.
If you've been excited by the world of motion graphics but still haven't started. This beginner course is perfect for you.
Dan (Adobe Certified Instructor)Who this course is for:
This course is for people who want to start earning money as a motion graphics designer.
This course is for beginners wanting to learn to use After Effects for motion graphics and infographics.
No previous After Effects or animation skills are necessary.
This course is for absolute beginners.
From Zero to Hero.
This course is NOT for people who have a good understanding of After Effects already. This is for new people only.

Instructor Details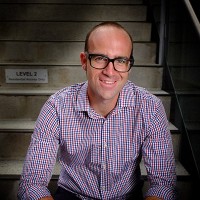 4.7 Rating
50 Reviews
Sharing is who I am, and teaching is where I am at my best, because I've been on both sides of that equation, and getting to deliver useful training is my meaningful way to be a part of the creative community.
I've spent a long time watching others learn, and teach, to refine how I work with you to be efficient, useful and, most importantly, memorable. I want you to carry what I've shown you into a bright future.
I have a wife (a lovely Irish girl) and kids. I have lived and worked in many places (as Kiwis tend to do) but most of my 14+ years of creating and teaching has had one overriding theme: bringing others along for the ride as we all try to change the world with our stories, our labours of love and our art.
I'm a certified Adobe instructor (ACI) in Ireland. I'm also an Adobe Certified Expert (ACE) and have completed the Adobe Certified Associate training (ACA). And I don't just do Adobe. Remember, media is a very broad term digital blew out the borders, so we are all constantly learning.
I've been teaching for 14+ years. I come from being a media designer and content creator so I understand exactly where you're at now. I've been there. I love this stuff. Print, digital publishing, web and video. I can see how it all connects. And I can see how we can share those connections.
I built Bring Your Own Laptop in Ireland, New Zealand, Australia & online. I have a great team working with me to keep BYOL at the top of Adobe and digital media training. I u

Reviews
Write a Review